ENGAGEMENT SESSION
Why it's a great opportunity
A chance to shoot together…
get a feel for how each other work…
Read up on the portrait guide for more on engagement sessions!
We want to hit the ground running come the wedding day. That's why your comfort with me and my understanding of you is really important. lets get together, Hang out, take photos and laugh together.
and getting the most out of it
A WELL LIT PLACE IS A HAPPY PLACE. CHOOSE TO GET READY IN A SETTING THAT HAS LOTS OF NATURAL LIGHT. YOUR SKIN TONES WILL LOOK MORE FLATTERING AND THE OVERALL VIBES MORE CHEERFUL.
AS MUCH AS POSSIBLE, TRY TO KEEP PERSONAL ITEMS AND CLUTTER IN A SEPARATE ROOM. ALSO, MAKE SURE TO BRING A PRETTY HANGER FOR THE DRESS, NOTHING FANCY. ANYTHING IS BETTER THAN WHITE PLASTIC!
BE INTENTIONAL WITH YOUR GETTING READY SPACE. GETTING MAKEUP ON IN THE TINY HOTEL BATHROOM, CRAMPED BY PEOPLE AND LUGGAGE IS A STRESSFUL AND OVER-STIMULATING ATMOSPHERE.
DO YOURSELF A FAVOR
HOTEL ROOMS LACK CHARACTER, SPACE AND QUALITY LIGHT. LOOK INTO AIRBB or VRBO (or your very own home) AS A ROOMY AND AESTHETIC ALTERNATIVE! MANY AIRBBS OR RENTAL HOMES END UP BEING MORE AFFORDABLE ANYWAY. Choose a space that suits your needs and style. YOU WILL FEEL MORE comfortable and IN TUNE WITH YOUR EMOTIONS AND LESS WORRIED ABOUT which corner of chaos the rings are in.
MUSIC!
I've showed up to preparations before and it was dead silent with bridesmaids literally falling asleep. Music is an easy way to get the good vibes going and the energy levels up. Go on and blast those jams!
It's a chance to have a moment together without the pressure. Go ahead, get the tears and nervous butterflies out of your system!
First looks have a lot of logistical advantages. By seeing each other early, we now have the flexibility to do portraits before the ceremony, allowing you to be more involved with your guests during cocktail hour.
FIRST LOOK WITH YOUR PARENTS: These are some of my favorite moments on a wedding day! Without fail there is always laughter, hugs and even some tears.
Utilizing space and light.
EVEN LIGHTING: This is one of my favorite types of lighting for ceremonies. Under a canopy of trees, or in the shade will result in diffused and soft light which your skin tones will thank you for! Overcast also achieves the same result but unfortunately we can't control the weather!
A FEW MORE TIPS TO KEEP IN MIND…
Avoid using a mic stand as they tend to be distracting and ugly. Use a lapel mic if possible.

Mark the spots you'll stand at so you always have a reference point and stay at the center of the isle.

Use ushers to ensure all the right seats get filled. Without them it's easy for guests to just sit in the back and then you end up with gaps and empty spots near the front.

Go unplugged! Let your guests live in the moment and witness your vows without the distraction of cell phones (or God forbid, iPads!). You want engaged guests in your photos, not phones and arms leaning out into the isle.
Keeping it structured, yet loose and fun.
Communication: Making sure everyone is on the same page is the only way to make sure this process goes smoothly. Inform everyone you want involved what you expect and when/where you want them.

Where and when: I recommend doing family photos immediately after ceremony because everyone will be all together. I'll choose a shaded, outdoor spot for these, unless weather has other ideas.
Help: Enlist a helper to expedite this along and take some of the pressure of yourselves. Whether it's a coordinator or just your MOH, having someone with a list of people and groups will things be more organized.
STRUCTURING YOUR TIMELINE
Figure out what works for you and run with it. I'm here to help you arrive at a well-structured timeline - one that works well with the available light and your personalities, but also keeping your guests in mind.
In the end I want to collaborate with you to come up with the most appropriate timeline, but to get you started, you should know how long certain portions of photos will take.
Detail photos during preparations - 20-30 minutes

First look with parents - 10 minutes

First look with each other - 15 minutes

Bridal party photos - 20-40 minutes

Bride + groom photos - 15-30 minutes

Sunset photos - 10-15 minutes
Don't worry! About 1-2 months before your wedding I'll send you a questionnaire to help us begin our collaboration and fleshing out of the schedule.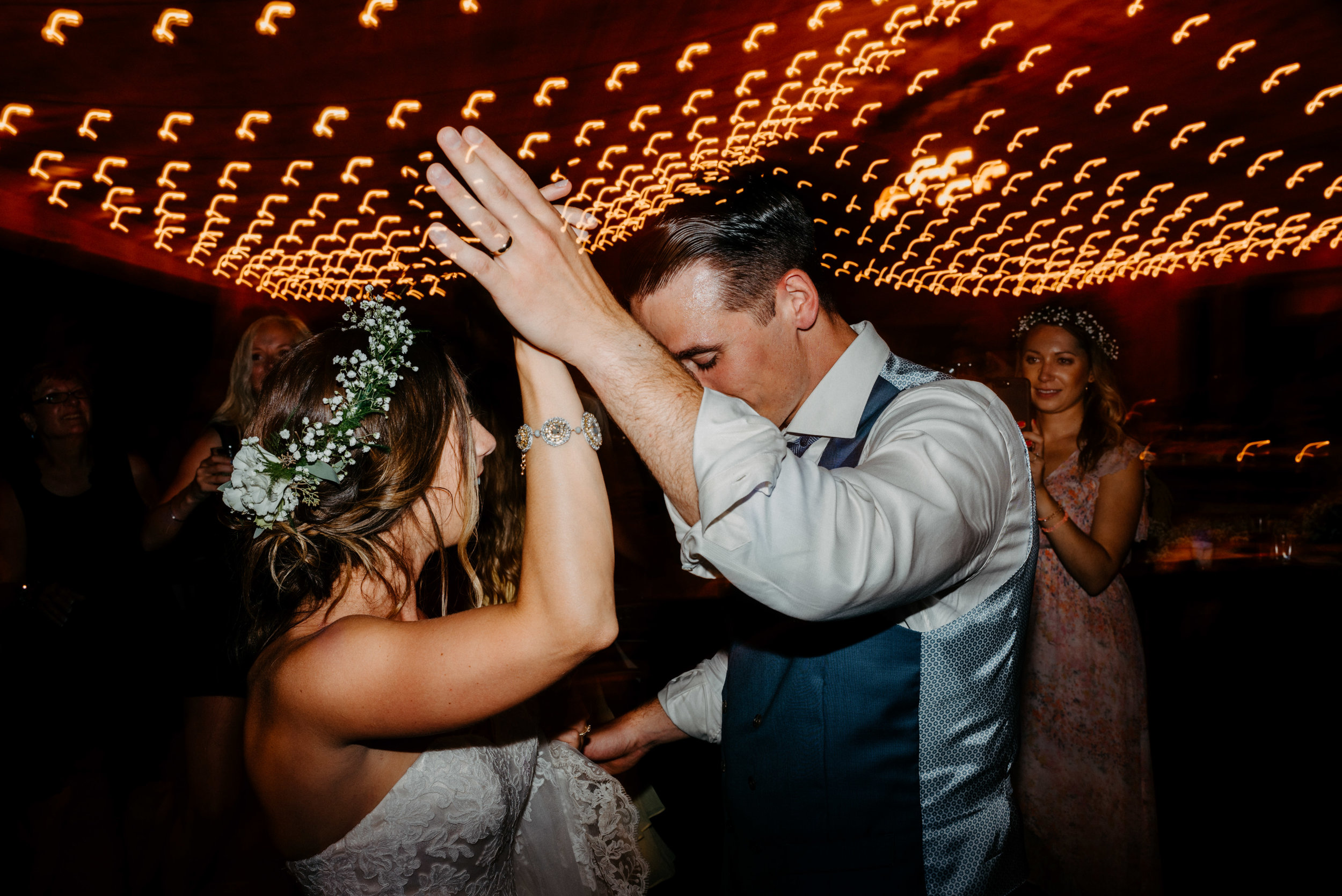 Ask the venue to serve me right after the bride and groom. If you don't, the venue will most likely serve me last and I'll be eating while you're up mingling and dancing. We don't want me missing anything because I'm in the back room scarfing down my meal!
Either turn the lights totally off or keep things bright enough for me to shoot in. If it's dingy but not dark it's harder for me to get the results we're looking for. Also, ask the DJ to kill the colored party lights for first dances. You don't need purple faces for that (or ever!)